The Anidroids™ are the latest addition to the line of self learning androids. Their chassis are all identical though the bodies differs between four different models; Cheetah, Lion, Tiger and the militarized Panther. The alterations includes but are not limited to paint, bodywork, sensory captors, personality chips, core colors and materials. All models are fashioned using kevlar fibers, carbon fibers, aluminum, steel and our harshly tested, highly acclaimed DuraFlex® and FlexyGlass® materials, only the percentages change from civilian to military use.
Anidroids™ are safe to use and eco friendly. They produce no radiation and their external heat signatures are the lowest on the market, an astonishing 31°C. Thanks to seven years of conception and thousands of man hours, our new Pentium DualO® cores produces 37% more energy and 12% less heat!
Need a pet? Need a friend? Can't decide? Have both! The Anidroids™ series can switch from Humanoid to Feral in seconds!
Humanoid: Enjoy a good time with a friend.
As all synthetics on the market, it walks on two feet and interact with others. Capable of aiding in thousands of tasks, the humanoid form is strong, powerful, fast and elegant. Our specialist worked hard to make sure you enjoy spending time with your synthetic. We refined curves from the previous models, glossed the finish and improved the voice quality.
Feral:. The perfect pet
Enjoy a walk in the park with a pet everyone will envy! We are proud to introduce a first in the synthetic industry. With a simple command, your perfect friend will turn into the greatest pet! Thanks to our DuraFlex® technology, the sturdy waist and shoulder joints bend at the perfect angle, allowing a more natural look for an animal. Our FlexiGlass® also comes into play, folding inside the upper jaw while the lower one secures itself in place.
All base models includes; Humanoid & Feral modes, Pentium DualO® cores, DuraFlex® joints and locks, Flexiglass® visors, prehensile tails, Dual head ventilation ports, flexible spines, claws, personality chips, user-control modes, private wireless network, encrypted informations, MultiShar© and more!
All Anidroids™ comes with a twelve years warranty, a personalized contact line, a secured Identification Number, an encrypted voice, touch, iris scan of the original owners and a free personality chip. Buy today the friend of tomorrow! Chose the personality you desire from our catalogs!
Personalities may differs between each chips. Replacement chips are free of charge upon proof of malfunction.
All SLA products abide the same laws of robotics as all other products on the market.
\\

Come one come all, witness this Cheetah model as it comes to life from the first time! It's 1, 2, 3 easy! One, access the chip installation slot behind the visor, two, install the chip, three, input the product number and your personalized code and watch as it comes to life just for you!

...

...

...

Greetings everyone. How nice to meet you all this evening. My name is Aza, the anidroid.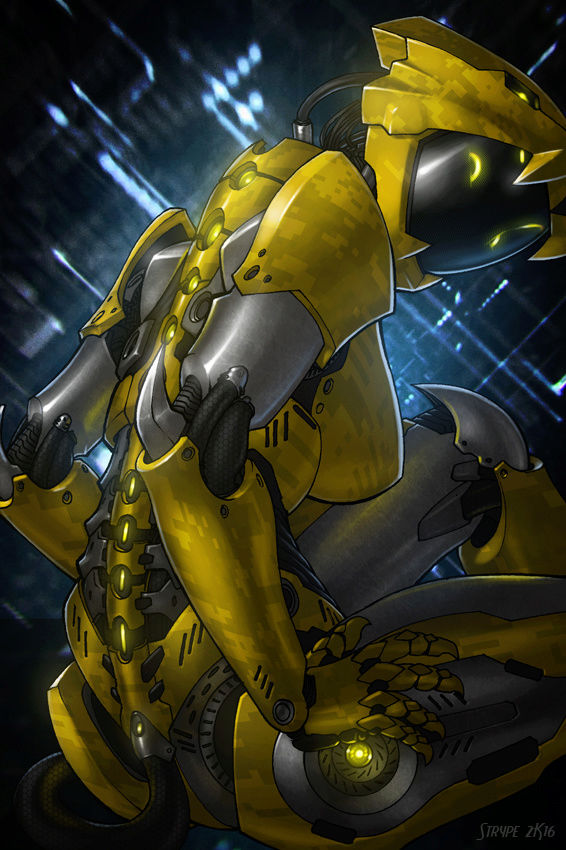 Admin





Posts

: 171


Join date

: 2016-12-02




---
Permissions in this forum:
You
cannot
reply to topics in this forum