Nothin' like a good old dick in my ass,
a m i r i t e o r a m i r i t e
So today, we're gonna talk about some gay stuff. For one, this, cunt of a human being posted a shitty complaint about "Oh boohoo my fucking art's too special to draw shit for people for free". Grow the fuck up. I write all my shit for free, I purposefully remove ads off of all my videos on YouTube so people can at least watch speaker-destroying videos without any horseshit. Of course there's gonna be people who want shit from you for free, welcome to capitalism. Sure it's annoying but it's not worth whining about. Anyway they drew a comic about it and it got a lot of backlash...
But think about it this way, right, you've got a lot of artists on the internet. About half of them draw shit for free. You cannot compete with people who make their product free unless you make yours free. So of course people who ask you for art are going to be surprised when you DON'T offer your art for free. If I wanted something drawn, I would try and find someone who would draw good art. I would ask them if they draw something, and if they said I had to pay, I'd say "fuck off" and move onto the next person. Artists act like they're fucking gods, most of the time, too. Most of them. One of them I know pretty personally has been pretty good at it so far. A lot of people like to say writing is just as hard and they're just as selfish. I've got news for you...
WRITING ISN'T HARD!
You sit in front of your fucking computer and you mash buttons. That's it. I'm doing it right fucking now. If you find writing hard, then either I'm a writing god amongst men, or all of you guys are fucking pussies.
Anyway I fucked with the comic myself a little. It's not funny at all so viewer discretion advised.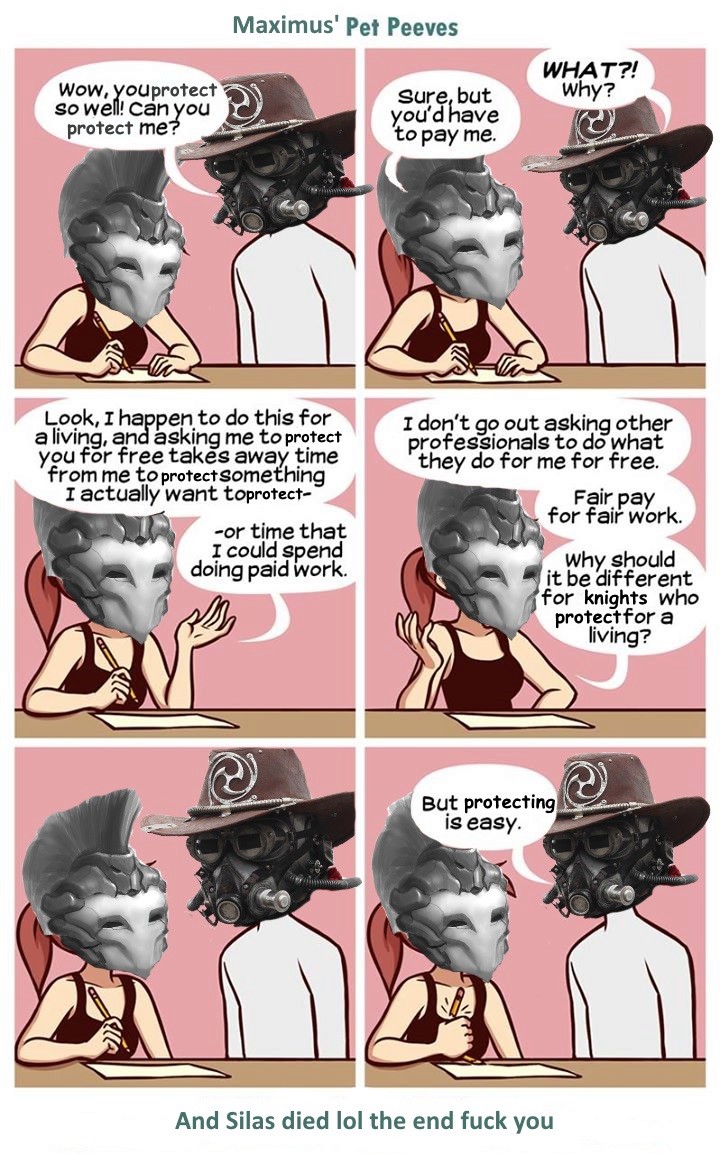 Fuck me.
I'M THE LORD OF THE HARVEST! BRING IT DOWN BRING IT DOWN!
My copy of GH3 broke already. That fucking game costed me like 20 bucks. All because my Xbox fell upside-down and scratched the fuck out of it. Useless piece of fuck. I bet it was all a plot from Bill Gates himself.
My name's Clyde Blackburn. I'm a Clyde Blackburn and a gambler.
Hey, you wanna know something about Vorcium?
FUCK
There you go that's it
I eet ass
No but really, Vorcium's close to being finished. There's only 2 more main segments to do. And like the previous couple of installments of TWWD I'm going to tell you the "stats".
Pages: 15
Words: 9,909
Characters: 54,166 (9,857 of which being spaces)
As I said, Vorcium should be getting completed before the end of this month, hopefully. If not then certainly during the first week of May.
GradeAUnderA is a bad YouTuber
I hate black people.
That concludes this week's installment of Seinfuck. Yeet.



Posts

: 83


Join date

: 2016-12-03


Age

: 32



Always finding it hard to find something to reply to your shit so ima go ahead and say keep it going.
Admin





Posts

: 171


Join date

: 2016-12-02



Nothing like licking the shit stains out of the bottom of a toilet bowl.
I think I'm slowly going insane.



Posts

: 83


Join date

: 2016-12-03


Age

: 32




---
Permissions in this forum:
You
cannot
reply to topics in this forum