If god isn't real, then explain this:
Hey, it's your boy. Back at it again with the white vans.
So to start it all off, Vorcium's second chapter, Icelated, is in the works and stuff I guess. Here's the stats:
7 Pages
4966 Words
27431 Characters (4944 of which being spaces)
Speaking of Vorcium, I hope you guys are enjoying the supplied background music stuff. If you're interested, I made a YouTube playlist, which includes all the songs used in the first chapter, as well as the confirmed upcoming chapters (all the way up to Chapter 5... and maybe beyond ;)))))))
If you're interested, here's the playlist. I hope it's not too metal.
https://www.youtube.com/playlist?list=PL4jnsdkecIMyU1RrPziQ3-RVRgDwdQWBe
Onto another subject, I've been thinking about the future books and such I'd write. One thing that doesn't get much attention from what I've seen is Lovecraftian stuff. I was thinking about writing a book that is journal entries from a man trapped in R'lyeh, I would go the distance and even write it completely in R'lyehian, but unfortunately there isn't a whole R'lyehian language, it's just a few select words in the language that have been used, without any strong grammatical structure in place. So that sucks. But at least we know what the theme song would be to this book:
http://southpark.cc.com/clips/360459/turning-dreams-into-nightmares#source=473fef35-48a7-434c-afc6-207874c7f1a3:76dc4928-ecfd-11e0-aca6-0026b9414f30&position=14&sort=playlist
Finally there's a touchy subject I want to talk about. Now I know, I left G+ with no intention of returning, and I've pondered a return for a while now, but I've been tempted to the extreme. A friend of mine, Sam, is making a new comm, of which I plan on playing the main villain in. Just to give it one more chance. I would like to see you there with me. Or against me, perhaps. Idk. Either way, remember the moral of today's story: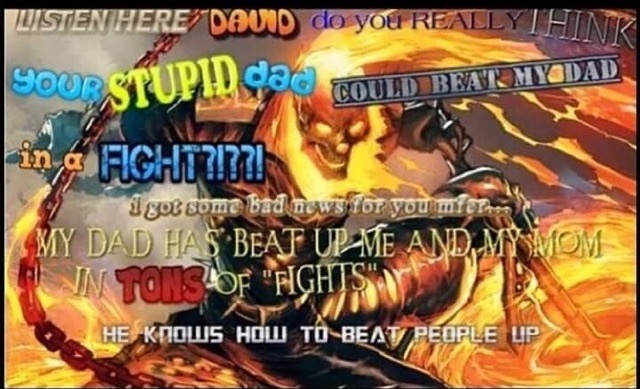 Posts

: 83


Join date

: 2016-12-03


Age

: 32



Well, i got no idea what you're talking about. Language? I mean... English is hard enough for me. Regardless, what ever it is i'll guess its american culture and i just cant get it. Given up on trying to understand a while back.

I won't boo or clap your return to G+, i think it's safe to assume we both know how it'll end up but lets keep the hopes up. You might see me around, might not. Depends on the kind of character i'll make, if i make one or use Aza.

See you around
Admin





Posts

: 171


Join date

: 2016-12-02



The language I was talking about was R'lyehian, the language of Cthulhu's race. I'm sure you know who Cthulhu is.

The American Culture isn't complicated because there IS no American culture. There are several mini-cultures. The Southeast is typically a bunch of redneck hillbillies who love guns, Trump and beer. The Northeast is loaded with a bunch of liberal scumbags who do nothing but promote the "equality" of races and genders. Meaning anything white, cis (AKA normal), male and/or straight are racist, transphobic, misogynistic and/or are homophobic and must be burned alive for having opinions even slightly different than theirs. The Northwest and most of the Southwest are composed completely of lifeless wind and emptiness. That just leaves California, which is just, an assload of fuck, Hawaii, which is hard to explain, and Alaska which is just Canadian.

As for the return to G+, Idk. I just have too many ideas and not releasing them stresses me out and I can't write anymore than what I already am. The Vorcium book is enough as it is, I don't need to write even more books. So I decided to help a friend of mine make a community and empty some ideas into there, that should keep me relaxed for a while.



Posts

: 83


Join date

: 2016-12-03


Age

: 32



I understand the urge to write ideas. That is the reason why i write short stries at a more or less consistant rate. That is also why i stopped writing books.. or at least, try out for books...

Personally, i just joined a community with a lore it was mostly written by one person alone and it resembles Dungeon and Dragon in a way. I've honestly neve saw that much lore on G+ made by a single person, so of course i joined. Hope to roleplay there with a spider-like character.
Admin





Posts

: 171


Join date

: 2016-12-02




---
Permissions in this forum:
You
cannot
reply to topics in this forum